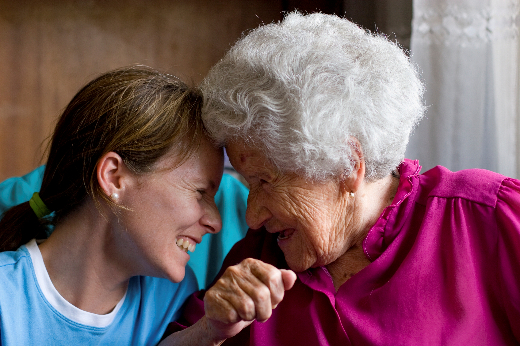 Personalized In Home Care Support and Services
In Home Support Services are designed to help recipients remain in their homes as long as possible. Our caring, trained and background checked home care aides and volunteers, promote health and independence for you or your loved one while offering needed support. We offer affordable flexible service plans and work with you to create an individualized care plan.
The following services are available:

Light Housekeeping
Vacuuming, dusting, sweeping and mopping floors, cleaning bathrooms (sinks, tubs, showers, and toilets), cleaning kitchens (sinks, appliances,  counters, taking out trash), straightening all rooms, organizing closets and drawers, and cleaning any interior windows that can be reached without a ladder.

Meal Preparation
Preparation of hot, nutritious meals, allowing clients to help with preparation according to their ability. Many seniors do not have the opportunity to eat a well-balanced meal, so this service helps them get the nutrition they need to enjoy healthier living.

Grocery Shopping/Errands
Grocery shopping and running errands, such as picking up prescriptions or going to the post office.

Laundry
Can be done in either the client's home or the Laundromat and includes washing, drying, ironing and putting things away.

Personal Care
Supports Bathing, Grooming, and Hygiene: helps seniors feel positive about their appearance through hygiene assistance, bathing, and grooming

Toileting and Incontinence Care
Works to maintain the dignity and self-esteem of seniors when they need assistance with activities of daily living. 

Medication Reminders
Provides reminders when medications that need to be taken.
Transportation
Trained volunteers provide vital services that help our older adult neighbors continue living in their own homes and connected to the community for as long as possible.
Transportation services include:
Medical transportation to and from appointments
Cancer transportation to and from treatments
Grocery transportation and assistance
Prescription pick up
Respite and Friendly Visiting
Trained staff and volunteers offer caregivers the opportunity to take a break from their daily care giving duties. Friendly visiting is available to those who would benefit from additional social interaction.
Visual assistance for visually impaired neighbors
As vision diminishes for some of our neighbors, our trained volunteers are there to help review and sort through mail, pay bills and read other critical documents.
Call 480-966-9704 to make an appointment to discuss how we may provide the support you or your loved one need. To volunteer, call 480-966-9704.